Helen McCrory: Narcissa Malfoy is a "Baddie with a Heart"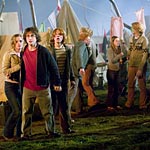 Jun 03, 2008
Uncategorized
Actress Helen McCrory was a guest on the BBC Radio 4 program "Woman's Hour" during which she spoke of her upcoming role as Narcissa Malfoy in the "Harry Potter and the Half-Blood Prince" film. Appearing on the show to discuss her current role in an Ibsen play now running in London entitled "Rosmersholm," Mrs. McCrory first spoke of the demanding nature of this part and of how this play came to her attention. Later in the interview, Mrs. McCrory delves into the the "Half-Blood Prince" production, discussing Narcissa's character, her wardrobe, and even the special care that is shown for her wand. Although stating she can say "practically nothing" about the film, she does go on to say this about her character's wand:
"…I get a wand. And somebody comes up to you on the set with a wand in a box. You literally use the wand and then it's put back into the box and it's taken away… and put in a safe. So, using a wand is no light thing."
Continuing on, Mrs. McCrory then expands on comments made in previous interviews on her character's wardrobe in the film, saying:
"…There is a fantastic designer called Jany who is Parisian and, of course, has more style in her little finger than most of us will have in our entire life. And she has designed… it's very high couture, what I am wearing, which is wonderful. It's all 50s and very hourglass and pencil skirts and very, very chic."
Finally, Mrs. McCrory calls the entire experience working on the sixth Harry Potter film "a fantastic thing" because, she says, "it's like being in Alice and Wonderland" with her fellow actors and the characters they've created. She also makes comments on her experience with young fans now that she has taken on this role and of the support she received during the production in regards to filming around her pregnancy.
You can listen to or download the ten minute interview in its entirety right here via the BBC Radio 4 website. Helen McCrory will appear as Rebecca West in "Rosmersholm" through July 5th at the Almeida Theatre in London, England.
"Harry Potter and the Half-Blood Prince" will hit theaters in the US and UK this November.