J.K. Rowling to Receive Honorary Degree at Harvard Today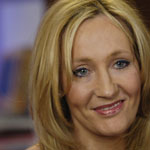 Jun 05, 2008
Uncategorized
As noted previously, J.K. Rowling will be giving the commencement address at Harvard University today at 2:30pm (EST). The Harvard Crimson has a preview of the event, and notes that the Harry Potter author will also be receiving an honorary degree today. The paper, which also has a new photo of Jo at a special reception at Harvard's Loeb house last night, cites reps who are looking forward to the speech from J.K. Rowling.
Comparing Rowling to yesterday's Class Day speaker, Federal Reserve Chair Ben S. Bernanke '75, Professor Maria Tatar, who teaches a course on childhood, said she thinks Rowling will deliver "a witty, inspiring talk that steers clear of the subprime crisis and gas prices but will still engage with tough, real-world issues."
…
"Just because she's not doing the nitty-gritty of the economy or politics doesn't mean that she's not bringing something to the table that's very powerful' the former dean for the humanities said. At a Class of 2008 dinner two days ago, parents debated copyright issues as students nearby speculated about Rowling's next project, Tatar said, adding that the writer has "cross-generational appeal."
"Commencement should be a sort of family-friendly time to think about imagination as well as the economy' she said.
On a related note, the Glasgow Daily Record is reporting that fans are paying big money for tickets to the event that are normally free to students and graduates of Harvard. The paper says: HARRY Potter fans are paying up to £100 for "free" tickets on the black market to hear JK Rowling speak in America today.
The author is making a special transatlantic trip to talk for 20 minutes to around 20,000 of the brightest and best students in the US and their families."