PotterCast 159: Guess That Book!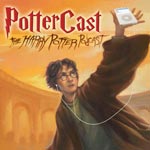 Jul 16, 2008
Uncategorized

After a bit of a break for the 4th of July, PotterCast, our Harry Potter podcast, is back this week with our 159th episode of Harry Potter news, discussion, and fun. The news came pouring in this week, and Sue is here to bring you information on the first high-res stills from the "Half-Blood Prince" film, the HBP video game trailer, a new interview with Stuart Craig from Movie Magic Magazine, theme park updates, and more. The PotterCasters continue on with Chapter 13 of "Deathly Hallows" in the next installment of Bit by Bit. This week, the topic of the Trio in the Ministry with Umbrdige is covered along with a discussion on the different descriptive traits used for various characters. Next up, we introduce a brand new PotterCast segment called: Guess that Book. This new call-out game gives listeners the chance to guess a particular quote from one of the seven Harry Potter novels in this fun new segment. This episode concludes with a WrapUp that gives you updates on the PotterCast Tour, another spoiler from Melissa's book, ComicCon news, and a shout out to the editors! To listen, just hit the "Play" button on the right side of the page (–>), or use iTunes, or direct download.
"Guess That Book!"
– "Half-Blood Prince" pictures and news galore.
– John is a closet ABBA fan.
– Mission Impossible at the Ministry, we continue Bit-by-Bit with Chapter 13 of "Deathly Hallows."
– It's the crazy James Bond chapter!
– Umbridge is as giddy as can be.
– What wizards would do with stem cells? Yeah… we went there.
– A new addicting call-out game is introduced this week.
– John spoils Melissa's book some more.
– Information and news about PotterCast at Comic Con in San Diego, CA this year.
– PotterCast Tour updates and news. Tentative live podcast dates and locations are as follows:
July 29: Boston, MA
July 30: Providence, RI
July 31: New York, NY
August 1: New Jersey or Philadelphia, PA
August 2: Philadelphia, PA or New Jersey
August 3 Pittsburgh, PA
August 4: Detroit, MI
August 5: Just hanging around in Ann Arbor, MI!

RT: 79:14
Editors: John Noe, Stede Bonnett, Andrew Garner, Jeff Gregory, Samantha McManus, Emma, Kimberly, Noah, Liz, and Luke
LeakyCon 2009: A Harry Potter Conference in Boston
Podcast Alley
Digg
Terminus 2008
Direct download (44 MB).
Direct download low-bandwidth (9 MB).
Remember you don't need an iPod to listen. Listen easily on iTunes, which you can download and install here, by clicking here to listen, or you can just use the streaming Flash player at PotterCast.com or just on the right side of this page. Discussion of the PotterCast is right here. Enjoy!