Presenting: Leaky Blogs!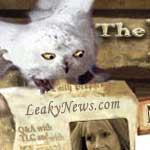 Jul 23, 2008
Uncategorized
We're happy to present one of our newest and most exciting feature here at Leaky: Leaky Blogs!
We've created a section to allow for more voices to be heard here on Leaky, for commentary about Potter: on canon, on fandom, and more; to allow for further commentary on news items, for posting set reports, for bringing more analysis and discussion to the table.
Though our staff have rounded out the first set of blogs, we are also accepting blogging applications from members: If you have an idea for a blog, please send it and any relevant experience to [email protected].
Huge thanks to go to Alex Robbin for creating the section and Doris, Nick and all the staffers who helped populate it!
We've already got a ton of articles live, so go over, read and have fun; updates will appear in the "What's New" section here on Leaky, so bookmark it and return often! Enjoy!