Harry Potter Cast News RoundUp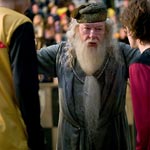 Jul 07, 2008
Uncategorized
There are a few stories online this evening involving cast members from the Harry Potter films participating in public charitable events. Firstly, our Order partner RupertGrint.net has a few new photos online from the second annual F1 Party which benefits the Great Ormond Street Hospital (GOSH). This hospital focuses on pediatric care and strives to "finding treatments and cures for some of the rarest and most difficult illnesses." Photos of Rupert from the racing event can be seen right here.
Next, BonnieWrightOnline has posted a few pictures online from Miss Wright's recent appearance at the Nelson Mandela 90th Birthday Concert held late last month in London. Proceeds from this concert, which featured performances from such singers as Annie Lennox, Leona Lewis, and Amy Winehouse, are to benefit Mr. Mandela's 46664 HIV/AIDS charity. This origination aims to raise awareness and youth involvement for the global fight against the spread of HIV/AIDS. Photos of Miss Wright on stage during the concert, can be seen via our Order partner's gallery.
Finally, TLC wishes to convey our condolences at the passing of actress Elizabeth Spriggs, who portrayed the Fat Lady in the "Harry Potter and the Sorcerer's Stone" film. The Telegraph has a piece online documenting the remarkable life and career of the actress.