PotterCast 162: NYC with Big Whompy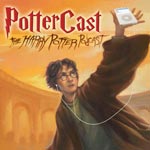 Aug 18, 2008
Uncategorized

Back from tour and Terminus,
PotterCast, our Harry Potter podcast is here today with its 162nd episode which brings you the latest Harry Potter news as well as our live show from New York City. This episode starts off with the big news of the week: the "Harry Potter and the Half-Blood Prince" film being pushed back to a July 17, 2009 release. Melissa, Sue, and John give their reaction to this announcement and talk of all the latest news on this subject. After the news, this episode then features the live recording of PotterCast from New York City which took place a few weeks back and features the reaction of Jo publishing "The Tales of Beedle the Bard." The PotterCasters also discuss the "Half-Blood Prince" trailer and go into great detail about the scenes, flashbacks, and new characters seen in the preview. The PotterCast quartet then play a live edition of "Guess That Book," hold some audience dueling, and take part in an extended question and answer session. Finally, we hear a live performance from wizard rock band The Whomping Willows. To listen, just hit the "Play" button on the right side of the page (–>), or use iTunes, or direct download.
"NYC with Big Whompy"
-The trio weighs in on the HBP release push-back.
– Frakledoodle is busy touristing in NYC.
– We play live Guess that Book, old school Dueling, and some Q&A with the NYC audience.
– All this and LOTS more including a live performance from 'The Whomping Willows.'
RT: 76:16
Editors: John Noe
PotterCast Summer Tour Info
LeakyCon 2009: A Harry Potter Conference in Boston
Podcast Alley
Digg
Terminus 2008
Direct download (35 MB).
Direct download low-bandwidth (8 MB).
Remember you don't need an iPod to listen. Listen easily on iTunes, which you can download and install here, by clicking here to listen, or you can just use the streaming Flash player at PotterCast.com or just on the right side of this page. Discussion of the PotterCast is right here. Enjoy!