New Images from "Half-Blood Prince" Calendars, Playing Cards, and More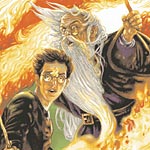 Aug 03, 2008
Uncategorized
There are a slew of new images online from foreign products set for release along with the sixth film, "Harry Potter and the Half-Blood Prince" this fall. As readers will remember, these product tie-ins feature new looks at a number of characters from the upcoming sixth film. We first have a new image online of Ron and Ginny care of a French calendar publishers, Mango jeunesse. This image, seen here, shows the brother and sister along with Harry Potter on the cover of a soon to be published 2009 calendar.
A second image from a "Half-Blood Prince calendar, featuring Harry and Dumbledore, is also set to be published from Panini Comics. This image can be viewed via this link.
Next, Play.com has two images of playing cards online, showing Harry, Ron, and Dumbledore. Finally, German retailers Elbenwald have online a most interesting new Harry Potter product in the form of new bed linens. This product features what looks to be a duvet cover and two pillow cases and can be viewed in greater detail right here. At this time, we are unsure if these products will be available for purchase in the US; however, they will be available via their foreign retailers over the next few months. Thanks to UHP for mailing.