PotterCast 165: Terminus Part One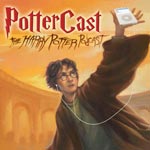 Sep 22, 2008
Uncategorized

Tonight we have for you the first of two weeks of PotterCast from Terminus, the Harry Potter conference that took place last month in Chicago, Illinois. The 165th episode of PotterCast, our Harry Potter podcast is now online with part one of the live recording from the conference. Sue's News starts off the show with new pictures from "Half-Blood Prince" via new merchandise, more images from the Wizarding World of Harry Potter construction at Universal Orlando, EA's announcement on the HPB video game release date, a ruling in the JKR/WB vs. RDR Books lawsuit, and the recent test screening of "Half-Blood Prince." The PotterCast quartet then discusses the spoilerific details from the screening. After that, we use our time turners to transport ourselves back to Terminus, where the Quartet discusses the conference, plays some games with the audience, and sits down with the creators behind Wizrockumentary Documentary. We are then treated with a performance from wizard rock band The Mudbloods, followed by an interview with the band members. Part One then wraps up with a live version of "Guess That Book" with the audience. Stay tuned for Part Two next week! To listen, just hit the "Play" button on the right side of the page (–>), or use iTunes, or direct download.
"Terminus Part One"
– New HP merchandise with new photos.
– New buildings at the theme park.
– Thoughts on Warner Bros. vs. RDR Books lawsuit.
– Reaction to the test screening of "Half-Blood Prince."
– Part one of the Terminus live PotterCast.
– Interviews with Wizrockumentary Creators and The Mudbloods.
RT: 84:59
Editors: Stede Bonnett, Andrew Garner
Producer: John Noe
LeakyCon 2009: A Harry Potter Conference in Boston
"Harry, A History" Website
Podcast Alley
Digg
Direct download (36 MB).
Direct download low-bandwidth (16 MB).
Remember you don't need an iPod to listen. Listen easily on iTunes, which you can download and install here, by clicking here to listen, or you can just use the streaming Flash player at PotterCast.com or just on the right side of this page. Discussion of the PotterCast is right here. Enjoy!