New Teen Magazine Interview with the Trio, Image of Harry at the Burrow, and More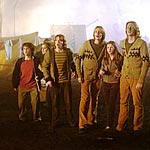 Sep 07, 2008
Uncategorized
Rupert Grint fan site, IceCreamMan, has scans from a new issue of Teen Magazine which features a brief interviews with actors Dan Radcliffe (Harry Potter), Emma Watson (Hermione Granger) and Rupert Grint (Ron Weasley) about working on the "Harry Potter and the Half-Blood Prince" film. We also get to see a new shot of Harry standing in what looks to be the shed at the Burrow as part of this article. In the interview, a scan of which can be viewed right here, Dan is first up and talks about the romantic turn "Half-Blood Prince" takes with his character and Ginny Weasley, played by Bonnie Wright. Dan says this of the romantic scenes compared to the more dark moments in the film:
"I prefer the dark stuff to be honest! The romance is fun and it's something people will really enjoy, but I personally like doing stuff in a cave where I am close to death. It's a lot easier than romance."
Dan also speaks of filming those romantic scenes and lighter moments with his fellow actors. Rupert continues on the subject of romance in a way when he discusses the audition process with actress Jessie Cave, who will be taking on the role of Lavender Brown. Rupert is quoted as saying:
Yeah, I went to some of the final stages of the auditions. It was really cool to be involved in that side of it, not that I really had any say. There were some good girls, but we didn't do the kiss. We didn't even talk about the kiss until the day we actually did it. But Jessie (Cave), who got the part of Lavender, is really cool.
Rupert then goes on to talk further about the filming and even a certain ping-pong competition he had with actress Emma Watson. Miss Watson is noted in the article as saying in regards to her ping-pong playing skills:
My parents played and they're really competitive. They never user to let me win, so I got quite good at it. Dan and Rupert were quite taken aback that I could beat them. I think Rupert took it the worst.
In addition to this, there was a small mention of Emma Watson in the newest issue of Teen Vogue about her recent appearance at the Cartier International Polo Day Event. A scan of the this can be viewed right here. Larger scans of Dan Radcliffe in the October 2008 issue of Details magazine can also be found via this link. Finally, screen shots of the video accompanying the Details interview with Dan can be found here.