LeakyMug 18: Live from San Diego!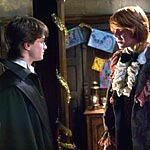 Sep 08, 2008
Uncategorized

This week, PotterCast, our Harry Potter podcast teams up with MuggleCast to bring you a brand new live LeakyMug from San Diego, California. Recorded just after ComicCon, the PotterCast and MuggleCast hosts discuss their time in the city for ComicCon, their "Harry Potter and the Half-Blood Prince" trailer predictions, their hopes for what they would like to see in the sixth film overall, and much more. They also take a number of questions from the audience as well as talk briefly about turning the seventh book, "Harry Potter and the Deathly Hallows," into a film as well. To listen, just hit the "Play" button on the right side of the page (–>), or use iTunes, or direct download.
LeakyMug 18: Live from San Diego!
– PotterCast and MuggleCast team up for a their eighteenth LeakyMug!
– It's Frak's first live anything
– The panel talks about their time at ComicCon.
– Thinking about the "Half-Blood Prince" trailer.
– Plotting out the entire "Half-Blood Prince" film.
– Questions from the audience.
RT: 82:54
Edited by: Andrew Sims
LeakyCon 2009: A Harry Potter Conference in Boston
"Harry, A History" Website
Unofficial Harry Potter Comic Con Yahoo group
Podcast Alley
Digg
Direct download (38 MB).
Direct download low-bandwidth (13 MB).
Remember you don't need an iPod to listen. Listen easily on iTunes, which you can download and install here, by clicking here to listen, or you can just use the streaming Flash player at PotterCast.com or just on the right side of this page. Discussion of the PotterCast is right here. Enjoy!