Emma Thompson Makes New Comments on Decision Not to Return as Trelawney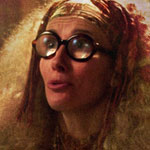 Jan 02, 2009
Uncategorized
In an interview before the release of her latest film, Last Chance Harvey, actress Emma Thompson has made some new comments regarding her decision not to return to the part of Professor Trelawney for the final Harry Potter films. Speaking with the San Francisco Chronicle, Emma Thompson addresses the outcry over her decision, and her upcoming work on the sequel to Nanny McPhee. Quotage:

Thompson does have a creative outlet other than acting, which is her
writing. She's been working on a drama about British art critic John
Ruskin, and this year filming will start on the sequel to "Nanny
McPhee" (2005), which she adapted from a children's book series.
While this project might seem innocent enough, "Harry Potter" fans
have been all over Thompson because of reports suggesting that she
chose Nanny over Sybil (in the forthcoming "Harry Potter and the
Deathly Hallows") when both were scheduled to be shot at the same time.
"I wasn't being rude at all," says Thompson, who adds that she loves
Sybil. "It's so typical, where they take something very, very small and
turn it into a big deal. I was never going to be in the next 'Harry
Potter.' I sort of put that to bed."