Tom Felton Visits Future Home of "Wizarding World of Harry Potter" at Universal Orlando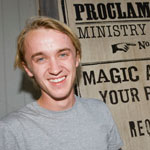 Jan 04, 2009
Uncategorized
Actor Tom Felton paid a visit to the future home of "The Wizarding World of Harry Potter" theme park attraction during a trip to Universal Orlando, Florida. Thanks to Universal for letting us know about new photos of the Draco Malfoy actor at the park, including this one of Tom checking out the Ministry of Magic signs, heralding the construction of the park (smaller photo available here).
Not certain if Draco would take this on (given his bad interaction with Buckbeak) but a second photo shows Tom Felton and girlfriend Jade enjoying the Dueling Dragons ride.
On a related note, be sure to check out these fantastic new aerial photos of the ongoing work courtesy the Themepark guy, thanks so much Stefan! The Wizarding World of Harry Potter is currently under construction in Florida as part of the Universal Theme park complex, and will be opened to the public sometime in 2010.