Live PotterCast Recording to Discuss Japanese Trailer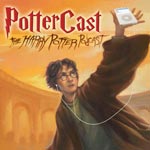 Jan 23, 2009
Uncategorized
Surprise! We've made a last-minute change to this week's recording schedule (which wasn't supposed to include a live show).
It will start at 4:30 p.m. ET (9:30 p.m. GMT / 1:30 p.m. PT) – sorry for the short notice, and also that it's during the day, but this is the only time we can all do it. Go watch the trailer (see the news post before this one) and well see you there. Here's how you take part:
We will be using TalkShoe so that you can listen in and take part in the episode. We will be soliciting your Snape input, and frankly, we're worried that you all are kinda opinionless on him, so read up and try to figure out what you think about it, OK? 😉
Here's what you have to do:
If you would like to listen via the Internet, click here. You will be directed to a chat, but do not have to be a member to be part of it nor do you have to actually chat. Audio of the recording should start playing on your computer.
If you would like to listen via phone, you can call 1.724.444.7444 and enter the call ID 28012#. You will then be prompted to enter a pin number:
-If you are a member of TalkShoe (you don't have to be) you can enter your TalkShoe pin ID to be recognized by your name on the call.
-If you are not a member of TalkShoe, you simply follow the instructions (most likely pressing "1" and then "#") to listen in on the call.
We will routinely be taking questions from the chat and from callers (and more frequently from those who are members of TalkShoe, as we can determine order of call for members), so please join us!
See you there! And stay tuned for more exciting live news coming this week!