PotterCast 184: Oh, MyLeaky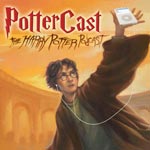 Feb 11, 2009
Uncategorized
The latest episode of PotterCast, our Harry Potter podcast, is now online with our 184th edition of Harry Potter news, discussion, and more. Sue's News kicks off the show with information on an interview with Matt Lewis (Neville Longbottom), the end of Dan Radcliffe (Harry Potter) and Richard Griffith's (Uncle Vernon) Broadway run in Equus, J. K. Rowling's French Legion of Honor Award, Steven King's comments about J. K. Rowling and Twilight author Stephenie Meyer, and the new Harry Potter and the Half-Blood Prince posters. Discussion continues on this subject with some callers from the live UStream chat, who dissect and analyze the newest posters. The PotterCasters then talk about the biggest news of the week: MyLeaky. The Quartet then walk you through all of the features of MyLeaky, as well as give you a few details on what is to come on TLC's social network. Up next, part two (or three) of our Canon Conclundrums airs, with an even deeper look into the Potions Master, Severus Sanpe. The show then wraps up with talk the last episode of PotterCast with Vlogbrothers John and Hank Green, a 'Thank you' to the Acting Troupe crew, and a few questions from the live audience. To listen, just hit the "Play" button on the right side of the page (–>), or use iTunes, or direct download.
"Oh, MyLeaky"
Introducing, MyLeaky!
Matt Lewis Rocks!
It's a Wrap! Equus' final show.
A King drops a bomb on Stephenie Meyer!
How could Snape not care for Harry?
Teasers Galore!
Hedwig: Voiced by Frak!
Coming Soon? Frak's Commentary on the PC Commentary.
Go to youtube.com/pottercast for our daily vlogs.
Register for LeakyCon 2009 now!
RT: 78:09
Producer: John Noe
Editor: Michael Beckett
Contributing Editors:
Briana Roop
Jamie Madeya
Andrew Garner
LeakyCon 2009: A Harry Potter Conference in Boston
"Harry, A History" Website
Jingle Spells 2
PotterCast Vlogs
Podcast Alley
Digg
Direct download low-bandwidth (9MB).
Remember you don't need an iPod to listen. Listen easily on iTunes, which you can download and install here, by clicking here to listen, or you can just use the streaming Flash player at PotterCast.com or just on the right side of this page. Discussion of the PotterCast is right here. Enjoy!