Harry Potter and the Deathly Hallows, the Claymation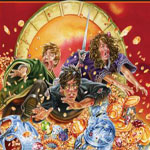 Feb 12, 2009
Uncategorized
Harry Potter fans are well known for their talent and creativity; tonight we have another clear example of that in action. A fan has made a claymation movie of Harry Potter and the Deathly Hallows that is now available to watch online.

,br>Starting here with the dramatic opening at Malfoy Manor, the stop -action claymation fan film runs over four hours in length, and is in 26 parts. While this is clearly a fan adaptation, labor of love and the filmmaker's personal vision of the beloved final book in the Harry Potter series, you can see some truly amazing work as depictions of things like the adventures in Gringotts, the heartbreaking moments at Shell Cottage, the epic battle for Hogwarts, the pivotal events with Nagini, Snape and the Prince's Tale, and the emotional Forest scene are all vividly brought to life. Enjoy!
Thanks so much Thiego!