Live PotterCast Recording at 7pm EST, with Creator of the Claymation Deathly Hallows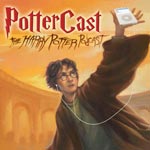 Feb 19, 2009
Tonight's PotterCast recording will be live (and a half hour earlier than usual): Join us at 7pm Eastern for a very special show including an interview with Ryan Freerksen, the creator of the Claymation Deathly Hallows getting so much buzz among fans.
The show will start at 7pm although you can expect activity at our UStream Channel earlier.
You MUST be a member to chat. Sign up at UStream. We will be taking questions from the chat and phone calls; we'll instruct on both during the show.
To find out about live shows earlier than these posts, make sure to click "Follow" on the channel; e-mails go out to followers several days in advance. See you there!