PotterCast 185: Never Been Kissed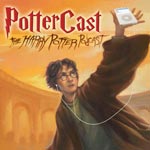 Feb 19, 2009
Episode 185 of PotterCast, our Harry Potter podcast,
is now online for your listening pleasure. This week, Sue brings us the latest Harry Potter news including info about the first four Harry Potter films now available for download on iTunes, previews of the Half-Blood Prince film after the Oscars, actress Emma Watson on her first on-screen kiss, Rupert Grint in Cherrybomb, and a reminder about LeakyCon 2009, our Harry Potter conference, which is less than 100 days away! Register now! Up next, Canon Conclundrums picks apart the epilogue of Harry Potter and the Deathly Hallows. Bit by Bit then returns the next bit of Deathly Hallows, where the second half of Chapter 19 is discussed in great detail. This episode wraps up with some drums, Harry, a History's Proof of Wizard Wrock, a forthcoming Harry, a History audio book, John's food poisoning, Fitting It In, HP Companion, and much more. To listen, just hit the "Play" button on the right side
of the page (–>), or use iTunes, or direct download.
"Never Been Kissed"
Harry Potter Years 1 through 4 now on iTunes! And

We Are Wizards

!
Harry at the Oscars.
The twins, conspicuous by the absence in the

HBP

video game.
Harry Potter and the Fairy Tale Ending (The Epilogue).
The Wrath of Hermione!
PotterCast… er… PotterWatch.
Harry an "Audio" History.
Food Poisoning attempt number two!
Go to youtube.com/pottercast for our daily vlogs.
Register for LeakyCon 2009 now!
RT: 86:42
Producer: John Noe
Editor: Michael Beckett
Contributing Editors:
Jake Neuman
Armin Vollstedt
LeakyCon 2009: A Harry Potter Conference in Boston
"Harry, A History" Website
Jingle Spells 2
PotterCast Vlogs
Podcast Alley
Digg
Direct download low-bandwidth (10MB).
Remember you don't need an iPod to listen. Listen easily on iTunes, which you can download and install here, by clicking here to listen, or you can just use the streaming Flash player at PotterCast.com or just on the right side of this page. Discussion of the PotterCast is right here. Enjoy!