Extra "level of polish" on Half-Blood Prince Video Game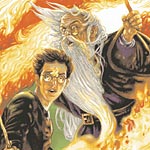 Feb 20, 2009
There is a new interview online today from GamerVision.com with John Fenno, a Senior Product Manager from EA, about the upcoming Harry Potter and the Half-Blood Prince video game. In the interview, Mr. Fenno discusses the differences between this and the previous games, what gamers can expect from the various platforms, and how they've utilized the various strengths of each platform. He also notes that the game, which he calls an "action packed experience from start to finish," has gone through a "level of polish" since the release of the game was delayed along with the film last summer. Quoteage:

"We put in an extra level of polish on the game that, I think, we can confidently say that this is the best Harry Potter game that we've ever made."
You can watch the interview, which runs just over three minutes in length and features a number of clips from the video game, via this link.
The Harry Potter and the Half-Blood Prince video game is slated for release in the Summer of 2009.
Thanks to DeathlyHallowz!