Tweeting Tom Felton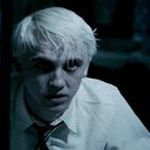 Mar 03, 2009
Here is an offbeat, yet rather cool piece of news tonight: actor Tom Felton (Draco Malfoy) has joined the legions of us on Twitter. The actor confirmed to Feltbeats.com that he is now part of the very popular online short messaging service, and you can follow Tom's official Twitter via this link http://twitter.com/tomfelton (you can also see a very recent picture of the actor as he is currently filming a new movie 13 hours). Finally Feltbeats has a fantastic new photo of the actor taken as part of a professional photoshoot for Heat Radio. You can learn more about Twitter here, as well as follow Leaky here, PotterCast here and LeakyCon 2009 here.
On a related note, there are a variety of media outlets carrying the story that actress Emma Watson has supposedly announced that she has been accepted into Yale, and this claim was made via Twitter. Please note: the Twitter account in question is under an assumed name, and is not an open public one like so many of the celebrities officially on Twitter such as Tom Felton, Stephen Fry, Ashton Kutcher etc, so please keep this in the rumor category for now. TLC is working to obtain veracity of this claim, and will update with more when we can.
Thanks so much to Feltbeats.com!