Live PotterCast AND HP Alliance Call Tomorrow Night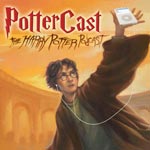 Mar 11, 2009
We have a double feature this week:
Tomorrow night at 7:30 pm, PotterCast will be live in the usual place, our Ustream channel. The show will feature Paul DeGeorge (Harry and the Potters) and Matt Maggiacomo (The Whomping Willows), who are currently heading the HPA "No New Stuff" Vlogging project (which you can see at the HP Alliance's YouTube channel). It's been awhile since we've had these guys on, but it never fails to be fun, so tune in.
After the PotterCast, Paul and Matt will stay live in the channel and do a full "No New Stuff" Conference call, talking about the project and taking as many questions as possible. That will start around 8:30pm.
(There will also be a live HPA "Accio Books" call Sunday with Hank Green of the Vlogbrothers; we'll have more info for you in another post!)
See you all there! Remember we will restrict chatting to those who have accounts at Ustream so be sure to sign up and follow our channel.