Update on the Harry Potter Video Games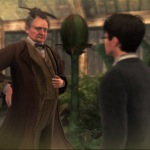 Mar 12, 2009
Two quick bits of news today regarding the Harry Potter video games. First, EA, makers of the games, gave a presentation in France, and revealed several new stills from the upcoming Harry Potter and the Half-Blood Prince game. You can see our entire collection of game stills here. At last word, the game is due to be released on July 14, 2009. A reminder as well, that the (caution, game spoilers at the link) soundtrack to the video game scored by James Hannigan will be made available next week.
A second update comes from Variety, who has a piece the licenses for the video games. The article points out that "EA's deal extends through Warner Bros.' last film, which will be part 2
of "Harry Potter and the Deathly Hallows" in 2011." At this point we do not believe there will be two video games for Deathly Hallows or know at what point the game may be released either with Part one in November of 2010 or in July with the release of Deathly Hallows, Part Two.