Brief Shot of Dumbledore Portrait Shown Tonight During Comic Relief Program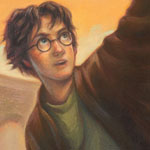 Mar 13, 2009
UPDATE: (Slight Spoiler) Here it is, the sleeping portrait of Professor Dumbledore in Deathly Hallows.
Also: Rupert Grint with Dan Radcliffe (note his hair is slightly longer, like Harry in the cover art).
Emma Watson greeting the visiting children
UPDATE 2: VIDEO is here in our galleries, thanks Roonwit!
Previously, we told you that children in the UK would be making a visit to the set of Harry Potter and the Deathly Hallows and footage of that visit would air during the BBC Red Nose Day Comic Relief charity program. That footage has now aired, and according to readers, contained a shot Professor Dumbledore's portrait. We do not know how much additional footage of the DH set was broadcast, and will continue to update with more when we can. Reader Neil owled to say that the children also did meet with Dan Radcliffe, Emma Watson and Rupert Grint.
Thanks Hannah and Amy!