PotterCast 187: That Hufflepuff Dog!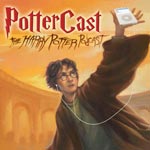 Mar 13, 2009
The 187th episode of PotterCast, our Harry Potter podcast, is now online for your listening pleasure. Sue's News kicks off the show with the latest information on Jo's recent visit to Royal Edinburgh Hospital, announcements about the upcoming Harry Potter Exhibition in Chicago, Illinois, movie news about featuring new footage from Half-Blood Prince, and the release date for Harry Potter and the Deathly Hallows: Part II in theaters. Up next, we bring you the third episode of Albus Potter and Founders'
Fountain by the PotterCast Acting Troupe. The show wraps up in the drums with a short discussion of the HPA's campaign for Accio Books, by wish you can earn points for your Hogwarts House through the HPA by donating books. Full information on this can be found on the Harry Potter Alliance website. To listen, just
hit the "Play" button on the right side
of the page (–>), or use iTunes, or direct download.
"That Hufflepuff Dog!"
Jo's a Tagger!
Toss a quaffle on the Quidditch pitch!
We see Dumbledore repairing Slughorn's dwellings.
Something "Conventional!"
PotterCast Acting Troupe: Episode 3
Accio Books

with Brian Ross, Paul DeGeorge, Sue Upton, and Evanna Lynch.
The Potterucci Sequence!
Go to youtube.com/pottercast for our daily vlogs.
Register for LeakyCon 2009 now!
RT: 76:10
Producer: John Noe
Editor: Michael Beckett
Contributing Editors:
Armin Vollstedt
Kaitlin Menzie
Also, special thanks to our ever-vigilant UStream Mods for monitoring the live PotterCast recordings.
LeakyCon 2009: A Harry Potter Conference in Boston
"Harry, A History" Website
Jingle Spells 2
PotterCast Vlogs
Podcast Alley
Digg
Direct download low-bandwidth (9MB).
Remember you don't need an iPod to listen. Listen easily on iTunes, which you can download and install here, by clicking here to listen, or you can just use the streaming Flash player at PotterCast.com or just on the right side of this page. Discussion of the PotterCast is right here. Enjoy!