New Trio Photos, Ad for Harry Potter and the Half-Blood Prince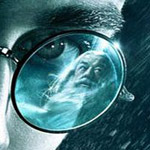 Mar 14, 2009
The new April issue of Nick Magazine contains a feature on Warner Bros Movies. In the feature are a solo photo of Harry (large size here), as well as an ad for HBP (note large scan) which shows the previously released photo of a solo Harry Potter with Dumbledore reflected in his glasses, and bears the tagline "Once Again I Must Ask Too Much of You, Harry".
There are also photos of the Trio, which are likely to be their main promotional photos, as these are mini posters of each actor in their Hogwarts robes: Dan Radcliffe as Harry Potter, Rupert Grint as Ron Weasley and Emma Watson as Hermione Granger. A large size scan of the trio can be seen here. This issue of Nick Magazine should be on newsstands next week.
This editor would like to thank her son for the heads up!