New Stills from Half-Blood Prince Video Game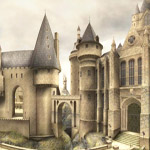 Mar 24, 2009
The Game Developers Conference is underway this week in San Francisco, California, and many previews of upcoming games are being released. IGN has a brief interview with a producer from EA regarding the upcoming Harry Potter and the Half-Blood Prince game, which is due out July 15th. While the interview has scant new information about the game, there are new stills which you can see here. Of the Wii platform of the game, the EA producer notes:
We started from a very solid foundation in Harry Potter and the Order
of the Phoenix with a highly authentic Hogwarts and really focused on
bringing more action and excitement to drive forward the narrative.
This experience is enhanced with specific improvements such as full
camera control, different times of day at Hogwarts, and improved
navigational elements such as a player's ability to call up Nearly
Headless Nick at any time to guide them through the various missions.


As a reminder, the soundtrack to the game from James Hannigan was released last week, and as we noted previously is available via our Cauldron Shop or on iTunes.