PotterCast 188: Sue's Birthday… Not New Stuff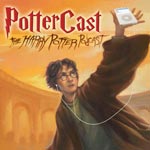 Mar 26, 2009
We have for you today the 188th episode of PotterCast, our Harry Potter podcast, bringing you the latest Harry Potter news, discussion, and fun. This week, Melissa, Sue, John, and Frak are joined by Paul DeGeorge from Harry and the Potters and Matt Maggiacomo of The Whomping Willows who sit down to talk about their No New Stuff Campaign. As always, Sue starts off the show with the latest news, including information on the Robert Knox murder case, music from the Half-Blood Prince video game, the first photo from the Deathly Hallows films, Beedle the Bard being shortlisted for the Children's Book of the Year, Tom Felton's twitter, major Deathly Hallows casting news, and much more. The PotterCasters then sit down with Matt and Paul to discuss their No New Stuff Project and the EP of the Month Club of 2009. We then move on to the next installment of Bit by Bit, which gets into the actual Deathly Hallows as the PotterCasters begin to discuss Chapter Twenty. Finally, the show wraps up some questions from our live audience, Sue's thank you for the birthday wishes, and a special preview of the Harry, A History audio book. To listen, just
hit the "Play" button on the right side
of the page (–>), or use iTunes, or direct download.
"Sue's Birthday… Not New Stuff"
It's Sue's Birthday!
Robert Knox's killer is sentenced.
Music from Harry Potter and the Half-Blood Prince video game coming soon.
The Tom Felton Twitter post of the week.
Bit by Bit of Chapter 20: Xenophilius Lovegood.
A talk with Matt and Paul about the EP of the month and "No New Stuff."
Sue thanks everyone.
Sneak peek into Harry, A History on iTunes.
Go to youtube.com/pottercast for our daily vlogs.
Register for LeakyCon 2009 now!
RT: 77:47
Producer: John Noe
Editor: Michael Beckett
Contributing Editors:
Seth Brown & Andrew Garner
Also, special thanks to our ever-vigilant UStream Mods for monitoring the live PotterCast recordings.
LeakyCon 2009: A Harry Potter Conference in Boston
"Harry, A History" Website
Jingle Spells 2
PotterCast Vlogs
Podcast Alley
Digg
Direct download low-bandwidth (9MB).
Remember you don't need an iPod to listen. Listen easily on iTunes, which you can download and install here, by clicking here to listen, or you can just use the streaming Flash player at PotterCast.com or just on the right side of this page. Discussion of the PotterCast is right here. Enjoy!