New Two-Part Riddle Contest and Winners of "Werewolf" Contest Announced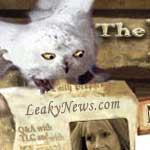 Apr 02, 2009
We have for you today two updates from our wonderful Contest Crew regarding the launch latest contest and the results of our previously held How to Spot a Werewolf Contest.
First up, back by popular demand, we have now launched another round of our Two-Part Riddle Contest. As readers will remember from last time, the first part of this contest asks you to submit riddles during the month of April. Each riddle must be less than 75 words and relate to a person, place, or thing found in the seven Harry Potter books. Once all entries have been submitted, our contest crew will pick the ten best riddles and post them in the Contest Corner of the Leaky Lounge forum every Monday and Friday at 9am EST during the month of May. Those interested in taking part in the second leg of the contest may then email their answer to each riddle to the contest staff. Those who submit correct answers to the riddle will be included in a drawing, along with the ten individuals who had riddles selected as part of the first part of the contest, for their own wand from Wizard Wood Wands. Full information on both parts of this contest can be found via this link.
Anyone over the age of 13, who is not involved in the judging process, may submit up to three original riddles (with their answers) to [email protected] before midnight EST on April 22, 2009 with "Riddle Entries" in the subject line of the email.
Secondly, the winners of our How to Spot a Werewolf Contest have been chosen by our Contest Crew and are as follows:
First Place: Brendan Lane
Top Three Lines:

3. Has a subscription to Moon Cycle Monthly.
2. He asked the professor if he could go to the hospital wing because his nose was dry.
1. Goes to Hogwarts with his head out the window on the Hogwarts Express.
Second Place: Lucy Todd
Top Three Lines:

3. She believes the so-called 'baddie' in 'Little Red Riding Hood' was misunderstood.
2. She refuses to eat out because she is yet to find a restaurant that understands the meaning of RARE steak.
1. She seems to have two 'time-of-the-months', one of which varies according to the lunar cycle.
Third Place: tryston009
Top Three Lines:

3. You wake up feeling like you're hungover"and you know you had nothing to drink the night before.
2. Hide-and-seek in the dark has become boring.
1. Every Halloween people keep generously complimenting you on how real your costume is.
You can view their full top ten lists over on this page. The First Place winner of this contest gets their very own wand courtesy of Wizard Wood Wands.
Congratulations to all!