Composer Patrick Doyle Talks "Goblet of Fire" Score in New Interview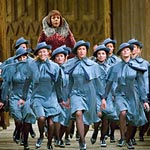 Apr 03, 2009
Harry Potter and the Goblet of Fire film composer Patrick Doyle has given an interview to InTheNews.co.uk in which he briefly discusses his work on the fourth Harry Potter film. Sitting down to talk about the upcoming concert highlighting the many film scores performed by the London Symphony Orchestra, which will feature the "Harry In Winter" song, Mr. Doyle relates his involvement in scoring the fourth film. Quoteage:

"My job [in Goblet of Fire] was to compose the music that complemented this new story with
lots of fresh characters, including the Beauxbatons Girls, the
Durmstrang Boys, Professor Moody and although he wasn't 'new' the
rebirth of Voldemort.

"The movie also had the death of a principal character, which was
quite cathartic. Harry and his friends were now quickly growing up and
with their eyes on the opposite sex and this maturity was also
reflected in the score.

"The emergence of these new characters and the emphasis on Voldemort
conjured up many new thematic ideas. I also endeavoured to make the
score in places much more British. The Hogwarts Hymn being an example
of this. The love element concerning Harry and Cho inspired the 'Harry
in Winter' piece which is featured in the concert tonight.

"This was a darker story and very much more grown-up than the previous narratives."
Mr. Doyle goes on to speak of the kind of feelings and emotions some works bring to his compositions, and more about his career in this interview.
London Symphony Orchestra: A Life In Film is set to take place at the Barbican Centre in London, England on Saturday, April 4th. In addition to Mr. Doyle's Goblet of Fire score, the concert will feature scores from such films as Star Wars, The Queen, Braveheart, and Superman.