Evanna Lynch Discusses Being a Child Actor on RTE Radio One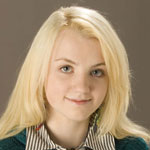 Apr 23, 2009
Actress Evanna Lynch (Luna Lovegood) made an appearance on The Tubridy Show relating her experience as a child actor. The program, broadcast on RTE Radio One, featured Miss Lynch being interviewed as part of their discussion, talking about how her interest in the Harry Potter books and films lead her into the acting profession, her first audition for the character of Luna, and how she handled the sudden media spotlight. The young actress also speaks to the pressures child actors face from the media, as well as how she, as a devoted Harry Potter fan, felt stepping into the films themselves. The conversation also covers some well-known child actors from past and present including Judy Garland, Lindsay Lohan, Haley Joel Osment, and many more. The program wraps up with Evanna speaking in regards to balancing work and school, what she has learned from this experience, and what she plans for the future.
The full audio of this half-hour radio program can be heard here via the Tubridy Show podcast, which is also available on iTunes, as well as via their RSS feed.
Many thanks to Kate for mailing!