Video, ScreenCaps of USA Today Preview for Harry Potter, the Exhibit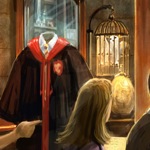 Apr 29, 2009
USA Today has a wonderful new video preview online of Harry Potter, the Exhibit which is due to open later this week at the Museum of Science and Industry in Chicago. Update: Video now available here in our galleries, and screencaps here of this preview that gives us a quick overview of some the props and sets from the Harry Potter films which are part of the Exhibit. In addition to the previews of the Exhibit we've posted earlier, the USA Today piece notes part of the display will include: "Beds used by Harry and his best friend, Ron Weasley, a Hogwarts
acceptance letter and Harry's spectacles and wand are among treasures
on display. So is a pink box of "love potion chocolates," which figures
in Half-Blood Prince. On an optional audio tour, filmmakers describe artifacts and their relevance."…"Hogwarts' teachers are showcased in classroom settings that include
objects identified with their characters: Divination Professor
Trelawney's crystal ball, Potions Professor Slughorn's apothecary jars
with labels such as "concoction #1029," Defense Against the Dark Arts
Professor Lockhart's books, including Travels With Trolls."

In addition, TLC Reader Michael S wrote in to say he also attended on of the early previews, and pointed out: "For the cost of six dollars (five for
members and, I think, four for children and seniors), there is an audio tour
available with commentary by the filmmakers, including costume designer Jany
Temime and, from what I can remember, Stuart Craig. I found it quite
entertaining. Very interestingly, someone on the audio tour said that there
will be, from what I thought he said, a broom, or brooms, that will accommodate
two riders in Deathly Hallows. This
is said at the end of the audio clip for the display case with the brooms, so
keep your ears open!" "Some of the items in the gift shop include: the San Francisco brand
snow globes (I believe are mentioned in a TLC news post), what appeared to be
hand-drawn artwork signed by Mary Grandpre, themed candy, and pieces of film
from the movies. Of course, there were the books, movies, and soundtracks."

WB has also issued a formal press release heralding the opening of the Exhibit:


"For almost three years, we have been working with Warner Bros. Consumer Products to
create an exhibition that we hope will be enchanting, engaging and,
above all, true to the spirit of the films," said Eddie Newquist,
president of branded entertainment, Exhibitgroup/Giltspur. "Harry Potter
is a one-of-a-kind cultural phenomenon, and we are excited that this
exhibition allows guests the opportunity to experience the work of some
of the most talented artists and craftsmen in the world."

"We are very pleased to be opening Harry Potter: The Exhibition
with our partners Exhibitgroup/Giltspur and the Museum of Science and
Industry in the great city of Chicago," said Brad Globe, president,
Warner Bros. Consumer Products. "The incredible stories written by J.K.
Rowling, and the films from Warner Bros. Pictures, have helped us
create a truly one-of-a-kind experience for fans of all ages.

TLC will be attending the special fansite preview today, and will have our full report soon, stay tuned! Harry Potter, The Exhibit runs April 30 until September 27. Ticket information can be found via this link.