New Profile on David Yates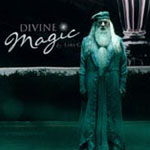 May 08, 2009
There is a new profile online today of Harry Potter film director David Yates. While most of this we have heard before, the piece is from the local paper where David Yates is from, and gives background on the director and his career. The article also notes how Mr. Yates is working on the final films in the Harry Potter series.
Yates took direction of the Harry Potter movie franchise in 2006
with the fifth film in the series, Harry Potter and the Order of the
Phoenix. This notched incredible box office success as well as an Empire Award and two BAFTA nominations.

Meanwhile, July 15 will see the release of the upcoming Harry
Potter film, Harry Potter and the Half Blood Prince, directed by Yates.

In fact he is also editing the seventh film Harry Potter and the
Deathly Hallows Part I and shooting Harry Potter and the Deathly
Hallows Part II. It will therefore be Yates who brings the curtain down on the
massively successful big screen adaptations of the Harry Potter books.