PotterCast 194: Precious!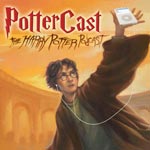 May 09, 2009
The 194th episode of PotterCast, our Harry Potter podcast, is here for you today, filled with the latest Potter news, discussion, interviews, and more. First up, Sue gives us the low down on the most recent Harry Potter news including, the airing of the ITV J K. Rowling documentary airing on ABC in the States, Dan Radcliffe's Drama Desk nomination for Equus, Matt Lewis' comments on Neville in Deathly Hallows, Shell Cottage filming, along with much more. We also get the lowdown on the one-of-a-kind set of signed Harry Potter books going up for raffle at LeakyCon. Next, the PotterCasters interview TLC Editor Edward, who attended a press preview for Harry Potter: The Exhibition in Chicago, Illinois. In this interview, they discuss some of the coolest things contained in the Exhibition, detail the various sets and props on display, and take some questions from the live UStream audience. The full text report from the event is availble here. A new edition of Are You Smarter Than John Noe? follows, where our own John takes on some of our live listeners on some tricky Harry Potter trivia. Finally, the drums bring the close of the show along with talk of John's Chipotle Alliance and Frak's various (and abundant) impersonations. Don't forget, registration for LeakyCon 2009 is set to close soon! Register for LeakyCon here! To listen, just hit the "Play" button on the right side of the page (–>), or use iTunes, or direct download.
"Precious!"
Dan is nominated for Best Actor.
Luna makes a Lion head, as only Evanna Lynch knows how.
Jo and Scholastic donate a complete set of signed Harry Potter books! To be raffled to one lucky fan at LeakyCon in Boston. Register now!
An Exclusive Interview: We talk with our own Edward about the Harry Potter Exhibition now open in Chicago, Illinois.
Are You Smarter Than John Noe?: All points go to Slytherin!?
The Weapon We Have is Salsa.
What's the coolest imitation Frak can do?
Smeagol is free!
Go to youtube.com/pottercast for our daily vlogs.
Register for LeakyCon 2009 now!
RT: 76:03
Producer: John Noe
Editor: Michael Beckett
Contributing Editors: Andrew Garner, Kaitlin Menzie, and Seth Brown
Also, special thanks to our ever-vigilant UStream Mods for monitoring the live PotterCast recordings.
This episode contains some audio inconsistencies due to a few sound issues that were not fixable during the editing process. Our apologies for these audio issues.
LeakyCon 2009: A Harry Potter Conference in Boston
"Harry, A History" Website
Jingle Spells 2
PotterCast Vlogs
Podcast Alley
Digg
Direct download low-bandwidth (9MB).
Remember you don't need an iPod to listen. Listen easily on iTunes, which you can download and install here, by clicking here to listen, or you can just use the streaming Flash player at PotterCast.com or just on the right side of this page. Discussion of the PotterCast is right here. Enjoy!