Half-Blood Prince Diary Contest Opens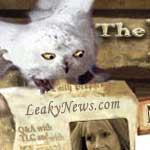 Jun 03, 2009
For the month of June, our Contest Crew has devised a new contest which asks you to write a diary entry from the point of view of an adult Order of the Phoenix member about the Battle of Hogwarts. In a diary entry of less than 500 words, relate the events of one of the Order members, detailing their personal experience of one or more of the events found in the chapters "The Lightning-Struck Tower," "Flight of the Prince," "The Phoenix Lament," and "The White Tomb." All diary entries should fall within the bounds of the Harry Potter book canon.
Readers over the age of 13 and not involved in the judging process may submit one, original, PG-13 appropriate entry to [email protected] before June 30, 2009 at 11:59 pm (EDT) with "HBP Diary Entry" in the subject line of the e-mail. Please copy-paste the story into the body of the e-mail and include a name to be used for authorship (real name or Leaky Lounge name). The first place winner will receive a custom made wand donated by Wizard Wood Wands.
Complete information about this contest can be found on the Contest Page, while Lounge discussion of all of our contests is located via this link. Additionally, thanks go out to SiriusBSirius for devising the original idea for this contest. We are still accepting ideas for future contests, so please check out this page to submit your ideas. If your idea is chosen, you will receive your very own custom made wand donated by Wizard Wood Wands.
Good luck to all who enter!