Product Watch: New Quidditch, Hogwarts Sun and Moon Tote Bags from Hot Topic, HBP Film Cells and More!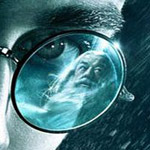 Jun 05, 2009
As we draw closer to the release of Harry Potter and the Half-Blood Prince, retailers continue to update with new products, such as Hot Topic. They have now added two new tote bags to their Harry Potter line: The Hogwarts Sun and Moon tote bag featuring all four House crests, and the Harry Potter Team Quidditch bag. There is also a new Gryffindor Gold outline crest tee and the Sword of Gryffindor shirt released earlier this week, joining the many new Half-Blood Prince products such as the Ron and Harry Shirt, Dark Arts necklace and more.
Scores of readers owled about the Marauders Map Beach Towel available for pre-order via the WBShop here.
NECA, Entertainment Earth and FilmCells LTD let us know about their many new products which are now available for pre-order. This post will be continued to be updated throughout the day as we add them in. Of note are the FilmCells LTD which are the actual source of some new Half-Blood Prince photos of late. Notable are the following:
Extreme Caution, featuring the poster we first told you about on display at the Harry Potter Exhibition in Chicago last month
Upright Trio, featuring a lovely montage of characters including the Trio, Snape, Draco
Snape MiniCell: Alan Rickman as Snape with a photo of Tom Felton as a conflicted Draco Malofy
Upright Trio Dark Arts, featuring Snape, Filch and Draco, and Young Tom Riddle, with the new Dark Arts/Death Eater Mask Half-Blood Prince logo montage at the bottom
Upright Trio Ron Weasley: Love is definitely in the air for Ron Weasley who is our King
Harry Potter MiniCell: Dan Radcliffe as Harry
Trio MiniCell
Young Tom Riddle minicell
Bellatrix Bookmark, featuring the Weasleys and Tonks at the burning Burrow
Hermione Bookmark, featuring Emma Watson as Hermione holding the Daily Prophet
Harry Potter Bookmark, plus several more movie montage cells. Many of these items are available for pre-order via our vendor Entertainment Earth,with a July release date.
More soon from the many NECA items, including this cool CAULDRON votive holder, which this editor finds to be quite nifty 😉
Finally, thanks to Portkey and UHP for letting us know the Panini Sticker Album is now available, and apparently contains here 64 pages of 234 stickers and a poster.