MSN Asks "Has Harry Potter Lost the Magic?"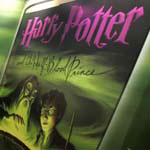 Jun 23, 2009
The MSN Mom & Pop Culture Blog for Family Entertainment has an
opinion piece today based on the question " 'Has Harry Potter Lost His
Magic?.' " The article starts by mentioning the huge interest and media
attention paid to the Twilight series, then discusses the delay of
Harry Potter and the Half-Blood Prince, wondering if this would cause
waning in the love of the series and films. The author notes that while
some had been planning a boycott when the movie opens next month, the magic remains strong and firm for
many of us, and mentions our own recent LeakyCon convention held last
month in Boston. Quotage:
But on the other hand, there is reality. Harry Potter still has passionate
fans. The Web site, TheLeakyCauldron.org reports more than 75,000
members in its online discussion community. These fans not only have no plans to
boycott Warner Bros. for delaying the movie, some of them also traveled to
Boston a couple of months ago for "LeakyCon," a convention that raised money for
charities and featured the musical stylings of an astonishing number of Harry
Potter tribute bands.
…
The event, put on by TheLeakyCauldron.org, wasn't just about bands, though.
Two major names in young adult literature, Cheryl Klein and John Green, gave a
keynote speech on the writing process. Klein was on the U.S. editing team for
Harry Potter, and Green is author of "Looking for Alaska" and "An Abundance of
Katherines" and "Paper Towns."

The author then goes on to note a feeling that is shared by so many of us:
As impressive as this is, conventions aren't proof that the boy wizard
retains his magic. That lies in the stories themselves, where the magic remains
in abundance…I picked up "Harry Potter and the Half-Blood Prince" again to get myself
ready for the movie, and loved it more this time than I did the first. Once you
know how the series ends, you can see the incredibly way Rowling structured the
story, weaving little bits into the tapestry that would have great meaning
later. All the while, she stayed true to her central theme: that a mother's love
is the most powerful magic of all. And she keeps things refreshingly complex.
Many secondary characters are a mix of good and evil — sort of like how people
are in the real world.

These books are good enough that they should be considered classics. The
movies, for the most part, have been good, too. This is why I'll be at the
theater the day "Harry Potter and the Half-Blood Prince" opens. For me, at
least, the magic is as strong as ever.
Hear Hear! Harry Potter and the Half-Blood Prince opens July 15th.
Thanks Jenny and Samantha!