The HPA Asks What Would Dumbledore Do?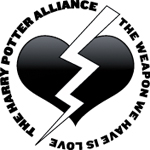 Jul 06, 2009
As we draw so near to the release of Harry Potter and the Half-Blood Prince, and the events involving the great Albus Dumbledore, the Harry Potter Alliance has now launched the "What Would Dumbledore Do" campaign as a way for fans to come together in the the spirit of the great Headmaster of Hogwarts.
While he is a fictional character, like so many other real life leaders, his message can help transform the world around us. Along with others such as Fiction Alley, Azkatraz, MuggleNet and many Wizarding rock bands, the HPA is calling on you to help join in with the three part campaign in effort to change our world. These parts involve: the Dumbledore Twitter Challenge where you twitter #dumbledore with every tweet; the Dumbledore Movie Theater Challenge on the night of the film's release; the Dumbledore Doctrine which is where you can comment and help a
living document that translates Dumbledore's lessons for
us personally as well as collectively. You can find out much more about this campaign to help carry out the great lessons brought to us by Albus Dumbledore here via this link.