Scholastic Releases Harry Potter and the Deathly Hallows Paperback Today!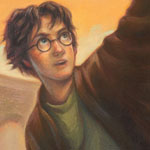 Jul 07, 2009
Just in time for all those summer holidays and vacations, the paperback edition of Harry Potter and the Deathly Hallows is now available here in the US. Released today by Scholastic, the US publishers of the Harry Potter novels, you can now find the paperback edition of the final book in the Harry Potter series at retailers everywhere. The special paperback box set from Scholastic is also now available for purchase. A reminder as well of the release party that is underway right now at the main Scholastic store in Soho, where fans can take part in Harry Potter trivia, potions and wand making events, plus
enter raffles for the trunk boxset of the Hardcover editions of the
series, or a Harry Potter print signed by artist Mary Grandpre. In
addition, with every purchase of the DH paperback, you will get a free
poster! If anyone is attending, please send in your photos and reports to [email protected] Enjoy!