The Hardest Harry Potter Quiz Ever?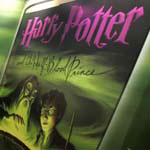 Jul 10, 2009
Posted by SueTLC
Attention readers of the Leaky Cauldron! Hollywood.com has thrown down the gauntlet and the challenge is this before us: Can you pass what they are calling the HARDEST Harry Potter Quiz ever? What say you?
Thanks to Hollywood.com for owling and trying to take on the smartest bunch of Harry Potter fans in the world.