PotterCast Extra: Red Carpet Interviews from Half-Blood Prince Premiere in New York City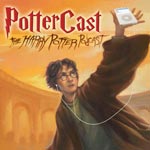 Jul 12, 2009
We have for you today another special PotterCast, our Harry Potter podcast, extra with the audio from TLC's red carpet interviews from the Harry Potter and the Half-Blood Prince premiere earlier this week in New York City. In this special episode, we have interviews with many of the cast and crew members from the film, including the Trio, Tom Felton, Bonnie Wright, director David Yates, and producer David Heyman. As a reminder, PotterCast released two special episodes featuring audio from the Actors and Producers press conference that took place prior to the premiere. To listen, just hit the
"Play" button on the right side of the page (–>), or use iTunes, or direct download.
"Red Carpet Interviews from Half-Blood Prince Premiere in New York City"

Since this was pulled from video, here is the order of speakers:

1. David Yates
2. Tom Felton
3. Dan Radcliffe
4. Tom Felton
5. Dan Radcliffe
6. David Yates
7. Dan Radcliffe
8. Emma Watson
9. Bonnie Wright
10. Tom Felton
11. Emma Watson
12. Dan Radcliffe
13. Bonnie Wright
14. Tom Felton
15. Dan Radcliffe
16. Emma Watson
17. David Heyman
18. Tom Felton
19. David Heyman
20. Dan Radcliffe
21. Rupert Grint
22. David Yates

Check out the PotterCast WordPress Blog for tour information.
Learn more about LeakyCon 2011 on our new Twitter.
Reserve your copy of the LeakyCon Live Album now!
RT: 9:31
Also, special thanks to our ever-vigilant UStream Mods for monitoring the live PotterCast recordings.
LeakyCon 2009: A Harry Potter Conference in Boston
"Harry, A History" Website
Jingle Spells 2
PotterCast Vlogs
Podcast Alley
Digg
Remember you don't need an iPod to listen. Listen easily on iTunes, which you can download and install here, by clicking here to listen, or you can just use the streaming Flash player at PotterCast.com or just on the right side of this page. Discussion of the PotterCast is right here. Enjoy!