Catch the New Half-Blood Prince Quidditch Widget from EA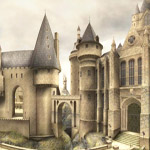 Jul 15, 2009
Attention Harry Potter and the Half-Blood Prince video game fans! EA has now launched a fun new Quidditch Training Widget. You can download it here, or play online here as EA says that fans can "test your reflexes on dodging Bludgers, shooting the Quaffle
and grabbing the Snitch. Challenge your friends and find out who would make the
best Seeker!" Enjoy! Also, the official game Facebook page has been updated with a new Hermione portrait, here.
The Harry Potter and the Half-Blood Prince video game is available in stores everywhere! Be sure to follow for updates on the game via Twitter