PotterCast 200: Half-Blood Prince Reactions from PotterCast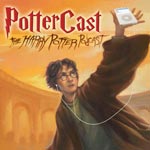 Jul 15, 2009
PotterCast, our Harry Potter podcast,
is here now with out 200th episode, featuring Melissa, Sue, John, and Frak's reactions to the just released Harry Potter and the Half-Blood Prince film. After attending a showing of the film last night, Melissa, John, and Frak are interviewed by our own Sue on their reactions upon seeing the sixth Potter film. In this uncut and spoiler-filled episode, the PotterCasters give you their review of the film and relate their reactions to some of the most memorable moments from the film. This episode contains comments about the story arc of the film, the cinematography, humor, romance, and so much more.
As a reminder, the LeakyCon DVD, which will be available to pre-order soon, will
also include all wizard rock performances from our conference. If you
like live wizard rock, be sure to reserve your copy of
the upcoming LeakyCon Live Album of the wizard rock live shows at our LeakyCon 2009 conference. To listen, just hit the
"Play" button on the right side of the page (–>), or use iTunes, or direct download.
"Half-Blood Prince Reactions from PotterCast"
RT: 45:46
Also, special thanks to our ever-vigilant UStream Mods for monitoring the live PotterCast recordings.
LeakyCon 2009: A Harry Potter Conference in Boston
"Harry, A History" Website
Jingle Spells 2
PotterCast Vlogs
Podcast Alley
Digg
Remember you don't need an iPod to listen. Listen easily on iTunes, which you can download and install here, by clicking here to listen, or you can just use the streaming Flash player at PotterCast.com or just on the right side of this page. Discussion of the PotterCast is right here. Enjoy!