Santa Monica Show Today, StarKidPotter to Perform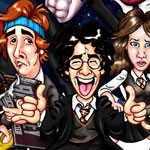 Jul 23, 2009
This is a quick reminder that our second-to-last show of tour is tonight at 6pm and will feature not only PotterCast and The Remus Lupins, but StarKidPotter, of the famed "A Very Potter Musical" parody (seen here).
INFO:
6pm
Santa Monica Public Library
The Remus Lupins, StarKidPotter
601 Santa Monica Blvd (map here)
Santa Monica, CA 90401
(Facebook event here)
See you there!
Remember our final show is Saturday at the San Diego Public Library, Central Branch:
820 E St (map here)
San Diego, CA 92101
3pm, Saturday July 25
(Facebook event here)
It's just blocks from the convention center and is going to be a blowout! See you there!