Winners of Harry Potter Look Alike Contest Revealed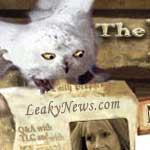 Aug 08, 2009
The winners of our Harry Potter Look Alike Contest have been chosen by our Contest Staff and are ready to be announced. As readers will remember, our July contest asked you to send in a photograph of those people who resemble characters from the Harry Potter films. The winners of this contest are:
Well, for years everyone has told me I bear a strong resemblance to Daniel Radcliffe, Harry Potter. For the last couple of movies I dressed up as Harry and to great reward, everyone else seemed to believe that I looked like him too! The one is highly photoshopped in order to attain the "Harry Potter affect" while the other is just plain old me with my handcrafted wand.
The photos here are from a photoshoot from when I was a part of the
cast for the Acciocon HP/Twilight Convention this last April. The hair
is my real hair and I've worked long and hard to achieve a similar
physique to Alastor Moody. The Eye is my own
creation that is remote controlled and swivels 360 degrees just like
the real thing. And when I'm in costume I am always in character.
I've developed an accurate impression of Gleeson's Voice, his same
determined Limp, and his intense attitude.
This is my friend Dominic. Dominic causes people-jams and minor
ruckuses when we go to Harry Potter events because of his resemblance
to Hagrid. When I went to see the first Harry Potter movie in the
theaters, I was absolutely stunned when I saw my friend on screen! Then
I realized it was Robbie Coltrane. I took these pictures on
opening night of "Harry Potter & The Half-Blood Prince." This is
how Dominic looks normally, other than the specially-made Hagrid
clothing: this is his natural hair and beard, and he wears no makeup.
In addition to the winners, we have two honorable mentions: Luna Lovegood and Lavender Brown.
The first place winner of this contest will receive their very own custom made wand from Wizarding Wood Wands.
As a reminder, the Wizarding Postcard Contest is up and running; full details on this contest can be found right here.
Congratulations to all!