PotterCast 202: You's and Sue's Views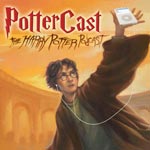 Aug 21, 2009
PotterCast, our Harry Potter podcast,
is back from the whirlwind PCLUPINWILLOW Summer Tour and here to bring you the very latest in Harry Potter news, discussion, and fun for our 202nd episode. Sue's News kicks off the show this week with news on an interview with Harry Potter screenwriter Steve Kloves, the Harry Potter Theme Park in Orlando, Florida, the upcoming Deathly Hallows film, comments by actor Michael Gambon (Dumbledore), and so much more. Next, we then feature your reactions of the Harry Potter and the Half-Blood Prince film with the next series of voicemail reviews. This brings us to Sue's review of the film and further discussion of the latest Harry Potter film. The Acting Troop is up next, with part one of two of our latest installment of our Albus Potter and the Founders Fountain. Finally, the show wraps up with talk of TLC's experience at the Half-Blood Prince film, the summer tour, YouTube plans, LeakyCon 2011 info, and so much more!
As a reminder, the LeakyCon DVD, which will be available to pre-order soon, will
also include all wizard rock performances from our conference. If you
like live wizard rock, be sure to reserve your copy of
the upcoming LeakyCon Live Album of the wizard rock live shows at our LeakyCon 2009 conference. To listen, just hit the
"Play" button on the right side of the page (–>), or use iTunes, or direct download.
"You's and Sue's Views!"
RT: 92:38
Also, special thanks to our ever-vigilant UStream Mods for monitoring the live PotterCast recordings.
LeakyCon 2011: A Harry Potter Conference in Orlando!
"Harry, A History" Website
Jingle Spells 2
PotterCast Vlogs
Podcast Alley
Digg
Remember you don't need an iPod to listen. Listen easily on iTunes, which you can download and install here, by clicking here to listen, or you can just use the streaming Flash player at PotterCast.com or just on the right side of this page. Discussion of the PotterCast is right here. Enjoy!