Rupert Grint Update: New Pics, Cherrybomb Screening in LA, More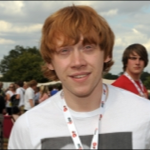 Aug 25, 2009
As a follow to the (hopefully) great birthday Rupert Grint celebrated recently, we have a few more updates regarding the actor who portrays Ron Weasley in the Harry Potter films. First, thanks to our Order Partner Rupert Grint.net there are some new high res photos of Rupert of the actor who took in the popular V festival event over the weekend in England. Rupert also went to the Richard Burns Memorial Rally where his brother was racing. You can see photos of Rupert at this event here.
Also, Variety reports that Cherrybomb starring Rupert Grint will be screening at the Irish Film Festival in Los Angeles, California September 23-27th. Tickets for this event will go on sale later this week; more info here. Also screening at that same festival will be "The Eclipse" with acclaimed actor Ciaran Hinds (Aberforth Dumbledore in Deathly Hallows) and The Secret of the Kells with Brendan Gleeson (Mad-Eye Moody).
Finally, several readers owled about an interview currently running on BBC Newsbeat which seems to be a rehash of comments made repeatedly by Rupert during the release of Half-Blood Prince regarding filming his kiss scene with Emma for Deathly Hallows, and how sad he will feel when the series has ended.