PotterCast 203: Potter Got Smarter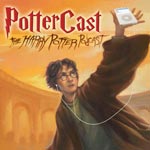 Sep 02, 2009

The 203rd episode of PotterCast, our Harry Potter podcast,
is
now online for this week with the debut of Potter Pundits, a new segment featuring a scholarly, yet entertaining, look at themes and symbolism in the Harry Potter novels. Sue's News kicks off this episode with the rundown on the latest in Potter news, including Dan Radcliffe's Hobbit ambitions… or lack thereof, Harry Potter film set DVDs, Deathly Hallows filming, updates on JKRowling.com, and lots more. The second part of episode five of the Acting Troupe follows the news,
with the continuing story of Albus Severus during his time at Hogwarts. Princely Pieces returns with more on Harry Potter and the Half-Blood Prince film. The PotterCasters go through the first moments of the film, starting from the first shot of Dumbledore through Harry's cafe experience. Next, we have for you the first discussion with our Potter Pundits: Travis Prinzi, James W. Thomas, and John Granger. In this new segment, we get to meet our Pundits and reveal the kind of discussions this segment will feature in future episodes. Finally, the show wraps up with a totally awesome surprise, some Harry Potter conference news, LeakyCon 2011 updates, LeakyCon Live Album release details, and much more!
A big thank you goes out to Jason Munday from the Ministry of Magic for creating our new intro music!
As a reminder, the LeakyCon DVD, which will be available to pre-order soon, will
also include all wizard rock performances from our conference. If you
like live wizard rock, be sure to reserve your copy of
the upcoming LeakyCon Live Album of the wizard rock live shows at our LeakyCon 2009 conference. To listen, just hit the
"Play" button on the right side of the page (–>), or use iTunes, or direct download.
"Potter Got Smarter"
It's year five!
The meaning of changes to JKRowling.com.
Half-Blood Bits… or Princely Pieces!
Acting Troupe Episode Five, Part Two!
Premiere of Potter Pundits!
A Totally Awesome Wrap Up!
LeakyCon 2011 news and updates.
LeakyCon 2009 Live Album updates!
Follow our LeakyCon 2011 Twitter and become a fan on Facebook!
Reserve your copy of the LeakyCon Live Album now!
RT: 72:42
Also, special thanks to our ever-vigilant UStream Mods for monitoring the live PotterCast recordings.
LeakyCon 2011: A Harry Potter Conference in Orlando!
"Harry, A History" Website
Jingle Spells 2
PotterCast Vlogs
Podcast Alley
Digg
Remember you don't need an iPod to listen. Listen easily on iTunes, which you can download and install here, by clicking here to listen, or you can just use the streaming Flash player at PotterCast.com or just on the right side of this page. Discussion of the PotterCast is right here. Enjoy!