'Female Force' Biographical Comic Book of J. K. Rowling to be Published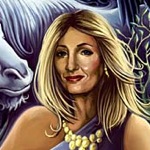 Sep 08, 2009
Harry Potter author J. K. Rowling will be joining the ranks of such other notable people as President Barack Obama and Oprah Winfrey with the publication of a biographical comic book from Bluewater Productions. MTV is reporting that the author will be the latest subject to have their life story immortalized under the 'Female Force' line of comics, which offers "broad examination of strong and influential women who are shaping modern history and culture." Slated to be published in December, the comic will be available in two formats, a standard 23-page comic, as well as a "double-sized collector's edition." A press release regarding the announcement notes:

"J.K. Rowling created a renaissance in children's and young adult literature. She inspires a legion of fans and it will be fascinating to follow how many future writers will point to her work as their original source of inspiration," said Bluewater's president Darren Davis.
The comic, written by Adam Gragg examines Rowling's middle class upbringing, her time in Portugal teaching English, her meteoric rise with seven immensely successful books adapted into several high-grossing Hollywood blockbusters, and her post-Potter endeavors.
"She is a remarkable and multi-dimensional woman," Gragg noted, "Learning about who she is and how she struggled to become a success was a truly enlightening experience. Twelve publishers turned her down. If it weren't for the daughter of a British publisher who liked Rowling's first chapter of 'Philosopher's Stone,' we might never have met Harry Potter."
The full cover of the upcoming comic book can be viewed right here. The standard edition comic will retail for $3.99, while the collector's edition will sell for $6.99.