PotterCast 204: RoboFrak!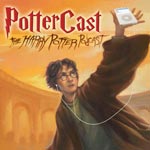 Sep 13, 2009

The latest episode of PotterCast, our Harry Potter podcast, is here for you today with its 204th edition of Potter fun, news, discussion, and more. This week, Sue gives us the latest in the news including a Scream Award nomination for Miss Evanna Lynch (Luna Lovegood), Chamber of Secrets Extended Edition DVDs, artwork by J. K. Rowling and Robbie Coltrane (Hagrid) up for auction, the Half-Blood Prince Box Office totals, updates for the upcoming Deathly Hallows films, and an interview with actor Jason Isaacs (Lucius Malfoy). Next, Princely Pieces walks through the next part of the Half-Blood Prince film, where Harry is introduced to Professor Slughorn and finds out a little more about the battle he is facing. The Mailbag makes its return for this week, where the PotterCasters answer some of the emails you've sent in. From canon questions to film queries, Melissa, Sue, John, and Frak attempt to answer what is on your mind. Finally, this episode wraps up with info on Melissa's AVON Walk for the Cure, the first round of donor shoutouts, and much more.
A big thank you goes out to Jason Munday from the Ministry of Magic for creating our new intro music!
As a reminder, the LeakyCon DVD, which will be available to pre-order soon, will also include all wizard rock performances from our conference. If you like live wizard rock, be sure to reserve your copy of the upcoming LeakyCon Live Album of the wizard rock live shows at our LeakyCon 2009 conference. To listen, just hit the "Play" button on the right side of the page (–>), or use iTunes, or direct download.
"RoboFrak"
RT: 45:32
Also, special thanks to our ever-vigilant UStream Mods for monitoring the live PotterCast recordings.
LeakyCon 2011: A Harry Potter Conference in Orlando!
"Harry, A History" Website
Jingle Spells 2
PotterCast Vlogs
Podcast Alley
Digg
Remember you don't need an iPod to listen. Listen easily on iTunes, which you can download and install here, by clicking here to listen, or you can just use the streaming Flash player at PotterCast.com or just on the right side of this page. Discussion of the PotterCast is right here. Enjoy!