Book Rumor: Bush administration denied J.K. Rowling medal because Harry Potter books "encouraged witchcraft"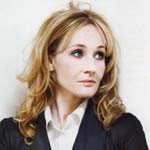 Sep 24, 2009
The new book SPEECH-LESS: Tales of a White House Survivor, a behind-the-scenes account of life in the George W. Bush presidential administration (published by Crown Books), has an interesting nugget for Harry Potter fans, as a reader has pointed out: according to the book's author, Matthew Latimer, J.K. Rowling's name was once in consideration for a presidential medal but was rescinded because the books "encouraged witchcraft." The relevant text is on page 201 of the book and reads:
[President Bush's chief speechwriter] Marc [Thiessen] liked to encourage a broad range of opinions from others, so long as theirs agreed with his. When Ted Kennedy was diagnosed with a brain tumor, I suggested that the president might at least consider awarding Kennedy the Presidential Medal of Freedom. Marc objected with the genteel diplomacy he was known for. 'That's crazy!' he thundered. …This was the same sort of narrow thinking that led people in the White House to actually object to giving the author J.K. Rowling a presidential medal because the Harry Potter books encouraged witchcraft.
George W. Bush served as president of the United States from January 2001 to January 2009. The Presidential Medal of Freedom is "an especially meritorious contribution to the security or national
interests of the United States, world peace, cultural or other
significant public or private endeavors." It is not always given to an American: during the Bush administration, presidential medal recipients included former British Prime Minister Tony Blair and former Australian Prime Minister John Howard.
During the Bush administration, the president and his wife, First Lady Laura Bush, were very vocal about their like for the Harry Potter books; Laura Bush called them her "favorite": "It was like finding a great mystery writer and having that whole body of work to read at once. I really loved them," she said.
You can purchase the book here.