"Half-Blood Prince" Film Released in Italy on July 15, 2009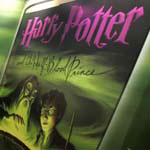 Jan 22, 2009
Uncategorized
There is news today from WB Italy, who announced that the upcoming Harry Potter and the Half-Blood Prince film will be opening in Italy on Wednesday, July 15, 2009. Paolo Ferrari, the President of Warner Bros. Pictures Italia, is quoted as saying in regards to the upcoming release:

"It's really important to support theater's business in hot months,
and so [this] event next summer WB will play a great role. Harry Potter had
demonstrate[d] his power on the July box office, and I'm sure he will
confirm his [extraordinary] potential."
As readers will remember, the sixth film, Harry Potter and the Half-Blood Prince, will hit theaters in the US, UK, and additional major international markets on July 17, 2009.
Thanks to GiratempoWeb.net and PortKey.it for the tip.